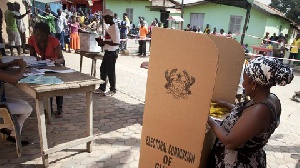 A group calling itself Crusaders against Corruption Ghana has said the upcoming December 17, 2019 referendum about whether or not local government elections should be politicised is "a non-beneficial venture, a total waste of the taxpayers' money" and has, therefore, demanded its "complete cancellation".
The group said in a statement signed by Mr Emmanuel Wilson Jnr., Chief Crusader, that it is against the proposed amendment of Article 55(3) of the 1992 Constitution to that effect.

"CAC Ghana emphatically states that the referendum is in no way related to the country having an election at the district level and local government units.

"Crusaders against Corruption Ghana further notes to the general public that over $6 million dollars from the taxpayer was invested in the work of the Constitution Review Commission from the period of January 2010 to December 2011", and so wondered if there was the need for the proposed referendum.

It said after a "thorough and extensive consultation with the rank and file of Ghanaians on the question of partisan local government", the made certain observations thus: "As a result of the corruption in Ghana's body politic, partisan politics in local elections may lead to the erosion of popular support for local assemblies; where local elections are held on a partisan basis, nomination rules determined and deployed by national parties can serve as impediments to accountability. This also weakens local government systems; in jurisdictions where political parties play a role in the elections at the local level, without clear rules that stipulate the inclusion of certain disadvantaged or minority segments of society, the system may easily engender dominance by majority groups, more powerful social groups and persons who have enough money to spread around for the purpose of attracting votes".
The group continued: "The committee of experts which drafted the proposals for the1992 Constitution noted that the nonpartisan nature of the district assemblies has the potential to facilitate the mobilisation of the people at the local level, and is more conducive to consensus formation, factors that are crucial to development efforts at the grassroots level".

The group said "on the basis of the above, and acknowledging the sound observations made by the Constitutional Review Commission, coupled with the fact that the nation Ghana has already spent over $6 million from the public purse to engage millions of Ghanaians on this subject matter, Crusaders against Corruption Ghana fully associate with the empirical facts that over 60 years of Ghana's independence has seen the detrimental effects of party politics in our nation, and as such we need not make it worse by expanding the activities of political parties into the local governance structure".

It said: "As a nation, we must be seen to be building an effective and efficient public administration system in each municipality or district for the betterment of every citizen, not just engaging in divisive partisan politics".