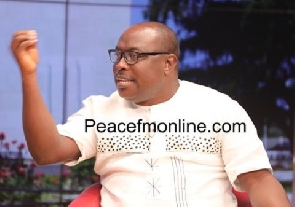 Deputy National Communications Officer of the National Democratic Congress [NDC], Kwaku Boahen, has cautioned Chairperson of the Electoral Commission [EC], Jean Mensa, that she can be removed from office same way as her predecessor, Charlotte Osei when the NDC regains power in 2020.
He said the EC's boss, Jean Mensa should see herself as exhibiting the same reasons that led to the removal of her predecessor.

"...she has limited powers, someone appointed her, someone was on that seat and there were reasons why she was removed . . . she should watch out that the same reasons can be made in 2020 for her removal when we regain power," he said.

The NDC Communicator indicated that he is surprised that at this particular moment President Akufo-Addo is directing parliamentarians to speed-up in releasing funds to the EC for the compilation of a new voters register when there are more pressing and relevant issues to be addressed in the country.
"I am surprised President Akufo-Addo has promised to get EC that huge sum of money to compile a new voter's register when there are more important issues to be addressed in the country than this [compiling a new voter's register] . . . school children are under trees and you want to waste money on this . . . the EC's reasons are bogus," he said on UTV's 'Adekye Nsroma' programme.

He continued that if even President Akufo-Addo sends his wife, siblings and children to work at the Electoral Commission he will still lose the up-coming 2020 elections.