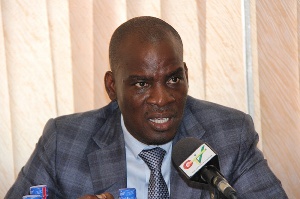 The Minority in Parliament has cautioned the management of the Ghana National Petroleum Authority (GNPC) on its excessive borrowing without accounting to the people of Ghana, and has said, it will have to account for every infraction in accordance with the laws of Ghana when the main opposition National Democratic Congress (NDC) returns to power.
At a press conference held in Accra on Wednesday, February 12, 2020 following the governing New Patriotic Party's Townhall meeting which was held in Kumasi in the Ashanti region on Tuesday, 11 February 2020, the minority bemoaned the excessive borrowing by the state-owned Petroleum company.

Speaking on what it refers to the as the mismanagement of the petroleum sector, the minority said GNPC was doing well under the erstwhile Mahama-led administration but under the Akufo-Add-led government, they borrow without due process.
"Today GNPC which was our flagship company which was doing very well, has borrowed USD 1.5billion, and out of that USD 1.5 billion, they have failed to come to parliament for approval and let me sound a note of caution to those managing GNPC, please take note that what you're doing infringes the Public Financial Management Act and that on 7th December when we vote for President Mahama, and he assumes office on 7 January 2021, every infraction ought to be accounted for in accordance with law, and so, they should take steps," Mr John Abdulai Jinapor, former Deputy Minister of Energy who addressed the press said.

He further reminded the government that: "This is a country that belongs to all of us, when we get leadership and we're appointed into such sensitive positions, it's not just about what we benefit, it's about what we think of in the future."