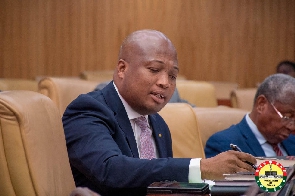 The Member of Parliament for North Tongu, Samuel Okudzeto Ablakwa, has alleged that the consignment of vaccines Ghana recently received to help with the shortage of vaccines for the immunization of children was received from Nigeria and Ivory Coast.
According to the MP, the government was left with no choice but to beg her West African neighbours for the vaccines which it will return in future.

In a post shared on social media, on Monday, March 13, 2023, Ablakwa was baffled by the failure of the Nana Addo Dankwa Akufo-Addo to tell the people of Ghanaian that Nigeria and Ivory Coast were the two countries who provide Ghana will some help with the vaccine shortage.

"Why is the Akufo-Addo/Bawumia govt not willing to publicly admit that it begged Nigeria & Côte d'Ivoire to bailout Ghana on the indefensible shortage of childhood vaccines? Why is our govt embarrassed to accept that yesterday's vaccine consignment were borrowed from Nigeria?

"Yesterday's consignment came in from Nigeria as a benevolent gesture which the Ghanaian government has promised to replace when it finally puts its house in order.
"There is absolutely nothing wrong saying THANK YOU to a neighbour who exhibits superior public health policies, better prioritization, and who responds positively and swiftly when you come begging," parts of the post read.

The North Tongu MP added that the failure of the government to acknowledge that it got the vaccines from the two countries is being taken as a lack of gratitude.

He also indicated that the childhood vaccine Ghana got will only serve the country for 6 days.

In the past week, there has been a widespread shortage of some vaccines used for routine immunisation of babies from birth to at least 18 months in the country.
The development has caused condemnation and critics by citizens who have blamed the government for its inability to provide basic healthcare.

The government announced, on Saturday, that it has received some of the vaccines.

"Ministry of Health and Ghana Health Service receive the first consignment of Measles vaccines, Bacille Calmette-Guérin (BCG), a vaccine for tuberculosis (TB) disease and Oral Polio Vaccines.

"Distribution to various regions and facilities underway. More vaccines expected in Ghana in the coming weeks from multiple sources," the Ministry of Information wrote in a post on Facebook.
View the MP's post below:




Why is the Akufo-Addo/Bawumia govt not willing to publicly admit that it begged Nigeria & Côte d'Ivoire to bailout Ghana on the indefensible shortage of childhood vaccines?

Why is our govt embarrassed to accept that yesterday's vaccine consignment were borrowed from Nigeria? pic.twitter.com/YTK1RxJbpk

— Sam Okudzeto Ablakwa (@S_OkudzetoAblak) March 13, 2023
Watch the latest episode of The Lowdown below:





IB/OGB