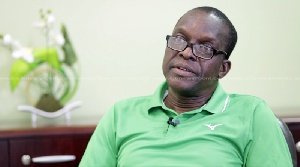 The Second Deputy Speaker of Parliament, Hon. Alban Sumana Kingsford Bagbin, has proposed a compulsory HIV/AIDS test for all prospective candidates across the political divide who are desirous of becoming the President of Ghana.
He also wants prospective parliamentary candidates to also avail themselves for this compulsory exercise, stressing that leaders must always show the way for their followers to follow.

The compulsory HIV/AIDS test, he added, must be part of the qualification processes to compel all those seeking the high office of the land to avail themselves for testing.

Hon. Bagbin who is a flagbearer hopeful of the opposition National Democratic Congress (NDC) expressed the belief that the exercise if adopted will help raise awareness on the need for people to avail themselves for test and do away with the stigma associated with the disease.

He made this observation, Friday, when commenting on a statement made by a Member of Parliament (MP) to mark this year's World AIDS Day.

"… We have to include it as part of the qualification of a Member of Parliament that before you go to stand an election, you go for an HIV test, and so should it be for all presidential aspirants. Yes, you should declare for the people to know", he noted while presiding over the affairs of the House.
He added "… It is true that we should show leadership in this direction. Leadership is not only what I did but also we should try and assist in policy formulation to include some compulsory things. I think this voluntary thing is what is the problem. I will go for compulsory testing for some category of people not every ordinary citizen but some category of people so that we can reduce the infection, particularly, some age groups".

Commenting further, Hon. Bagbin who is also the MP for Nadowli/Kaleo tasked his colleague lawmakers to show leadership by taking up the task of raising public awareness about HIV/AIDS since there are reported cases of new infections that are on the increase.

Misnomer

MP for Ledzokuku, Dr. Bernard Okoe-Boye contributing to the statement indicated that HIV/AIDS "is still with us" and urged all to position themselves to live a healthy life in the presence of the virus.

He described the World AIDS Day as a misnomer, stressing that "when you get the virus, you are HIV positive but you are not AIDS positive or an AIDS patient. It is when you don't take medication and you slide down the path and you are obviously very sick clinically. That is when we say you are AIDS patient. And because the conditions started and it was known as AIDS, the celebrations captured the name. But what we really want as a country is to have HIV positive people if they are infected and for them not get AIDS. So it is more or less a misnomer".
He commended Ghana as a country for doing a lot over the years to keep the prevalence of HIV very low.

"20 years ago, Ghana was having a prevalence rate of about 3.9% of the population. However, the rate has reduced to less than 2% in recent times. It is around 1.8 or 1.9%. One could only appreciate how well Ghana is doing when it is compared to some other countries, especially, South Africa which is having a prevalence rate of about 10% with over 7milliin people living with HIV virus", he noted.

Major challenges

According to Dr. Okoe-Boye who doubles as the Board Chairman of Korle Bu Teaching Hospital, when Ghana started the HIV/AIDS campaign some years ago, the country was faced with some numerous challenges key among them were access to drugs or medication; stigma – thus the treatment or acceptance of people with HIV; inadequate education; and very risky sexual behaviour.

"Mr. Speaker, the good news is that as we speak today, most of those challenges have been worked on", he noted.
Emerging challenges

Despite the progress made, Dr. Okoe-Boye said the country is still faced with new emerging challenges which include the willingness of citizens to participate in voluntary testing.

He encouraged all to get involved in a voluntary test, noting that "with HIV, we should engage in pleasure to live and not to die".