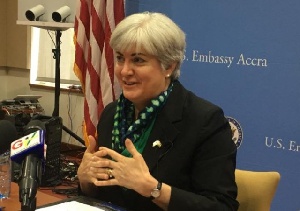 The United States Ambassador to Ghana Stephanie Sullivan has urged Ghanaians to report health facilities that charge for HIV medication and treatment.
Speaking in an interview with Takoradi-based Empire FM, the Ambassador said she often receives reports that persons living with HIV are charged monies when they seek treatment in some health centers in the country.

"One of the barriers to providing this type of care that will end up controlling the epidemic is user fees and the government has very commendable policies in place where treatment services or treatment or medicines for HIV /AIDS is not supposed to be charged, so listeners if you find that you go to clinic and you are being charged , you need to report that because that is not how it is supposed to be and it is not supposed to be difficult to get this life-saving treatment as it is not only life saving for the patient but also for any partners in reducing transmission".

HIV ambassador Reverend John Azumah who was also on the programme corroborated the information by the diplomat saying it happens most often.

" Yes, I get multiple pieces of information on this and like the US Ambassador is saying, when it happens like that it demotivates many people to report for care so I will plead with our health providers to see that this issue is very dear to the Ambassador as the US has made the free HIV care available for all to access without any frustration or hindrance of charges. We laud the health providers for their great work but when we hear things like this we get petrified".
On his part, the Regional HIV/ AIDS coordinator at the Effia Nkwanta Regional Hospital, Dr Samuel Aidoo admitted that inasmuch as any health care related to HIV is to be free, in some instances, there are anomalies.

"Yes, I must say that everything is supposed to be free in relation to the medication but what happens in some facilities is that when you are going for a folder, they want to charge you for the folder, but the folder should be free, everything is to be free so that is where it arises, but we are still embarking on sensitization and talking to them that they should not charge anything for HIV treatment as the treating and medication for HIV is free".

The US ambassador revealed the Western Region will be used as a model for the other regions for next year so the successes will be replicated across the country in treating HIV. She said a new antiretroviral drug has recently been introduced that has lesser side effects