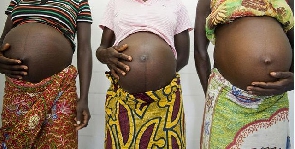 Tue, 4 Apr 2023 Source: GNA
Dr. Derrick Darko, a Medical Officer at International Maritime Hospital (IMaH), says while pregnant teenagers are socially stigmatised, there is less chance of them developing hypertension after becoming pregnant.
The IMaH Medical officer emphasised that young expectant mothers often avoid going to hospitals for check-ups in an effort to avoid stares because of the societal stigma.

Dr. Darko stated at the weekly "Your Health! Our Collective Responsibility," a Ghana News Agency initiative aimed at promoting communication on health-related and setting the medium for the propagation of health information to influence personal health choices by improving health literacy.

Speaking on the topic: "Hypertension in Pregnancy," Dr. Darko said because the majority of parents did not support teenage pregnancy, "teenagers who believe they cannot tell their parents that they are pregnant and who feel frightened and alone may be at risk of complications."

He said because adolescents were also less likely to visit the hospital for their routine prenatal examinations, it was crucial to assist them in receiving the antenatal care and emotional support they required to maintain their health during the most vulnerable stages of their lives.

The IMaH Medical Officer also disclosed that women who were 35 years of age or older and were expecting their first child were also at risk of developing hypertension.
According to Dr. Darko, high blood pressure, had become more widespread, but with proper blood pressure management, a woman and her unborn child have a higher chance of remaining healthy.

Dr. Darko also stated that if a pregnant woman's body experienced a surge in hormones under extremely stressful circumstances, it could cause the heart to beat more quickly and narrow the blood vessels, which could even result in a heart attack.

In order to prevent the accumulating stress in pregnant women and its consequences, he appealed to friends and family to foster a feeling of community around them by providing the necessary support.

According to Dr. Darko, having high blood pressure during pregnancy increases the risk of having preterm infants, who are typically underweight, pregnancy complications, heart attacks, maternal and neonatal mortality, among other things.
Source: GNA