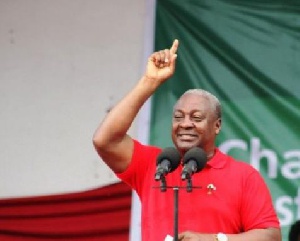 Wed, 19 Oct 2016 Source: GNA
"The Promise of the National Democratic Congress Government to provide each district with a modern hospital is on course and would receive more attention in my second term of office," President John Dramani Mahama has announced.
He said good health was essential to every development and that was why his administration had and would continue to allocate more funding to the sector to make health accessible in every part of the country.

President Mahama, who announced this at Kpassah, in the Nkwanta North Constituency, as part of his four-day campaign tour of the Volta Region, said apart from the district hospitals, the Government was also constructing Polyclinics and Community Health-based Planning Services Compounds throughout the country.

Among other programmes, President Mahama would also address rallies in Nkwanta, Jasikan and Kadjebi on his second day in the Region.

The President said the provision of district hospitals was feasible as more of the districts were already having them, while others were having Polyclinics and Health centres that could easily be upgraded into ultra-modern hospitals

On agriculture, President Mahama said as one of the food baskets of the country, the farmers in Northern Volta would be given all the financial and logistic support to harness their farming potentials to make Ghana a net exporter of food.
"We are establishing Farmer Service Centres everywhere in the country, where machinery, improved seeds and other inputs will be supplied to farmers to produce and pay only after harvesting their crops," he said.

He said apart from such supplies, the centres would also provide credit facilities for farmers to step up their production levels and make Ghana self-reliant.

President Mahama said under the agricultural support policy, the Government would also support farmers to harness and specialise in areas that they had comparative advantage in.

He said the Northern Volta had comparative advantage in yam and maize production and it would, therefore, be assisted to produce beyond domestic consumption and to raise export levels to neighbouring African countries.

At Nkwanta, President Mahama gave the assurance that Ghana would witness tremendous development in his next four years of administration, a feat, he added, could only be achieved through a high sense of responsibility and unity.
"My next four years will transform Ghana to become a well-developed state and become exemplary in the African continent," he said.

He promised to terminate the contracts of contractors, who were delaying work on the roads between Nkwanta and Damako, intended to help in the carting of goods and foodstuff from farming communities to marketing centres.

Mr Johnson Asiedu Nketia, the General Secretary of the National Democratic Congress, warned NDC supporters against voting 'skirt and blouse' as that could turn inimical to the Government.

He explained that in the event that the President won but with fewer NDC legislators, the opposition parties could dictate the pace of law-making in Parliament.

Obore Konja III, the Paramount Chief of Kpassah, appealed to President Mahama to complete the construction of roads in the area.
Source: GNA