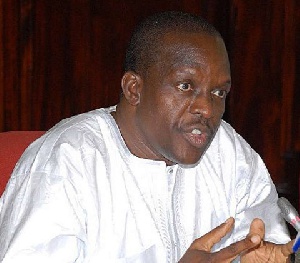 Second Deputy Speaker of Parliament, Alban Bagbin, has accused the governing New Patriotic Party (NPP) of implementing policies that have the potential of "messing up" Ghana's education system.
The flag bearer-hopeful of the main opposition National Democratic Congress (NDC), is of the view that the double-stream system announced by President Nana Akufo-Addo for senior high schools, is "not well-thought out".

President Nana Akufo-Addo has asked for the support of Ghanaians in implementing the newly system meant to cater for the spike in enrolment into senior high schools due to the free SHS policy.

The full implementation of the new system is expected to cost GHS323million. The objective of the double-track system is to create room to accommodate all the students, reduce class size, increase contact hours and increase the number of holidays.

The system is similar to the academic calendar used in the universities. With this system, each track will be in school for specific days for each semester and go on vacation and come back for the second semester. While the first track is in school, the second track will be on vacation and vice-versa.

However, Mr Bagbin, who was a guest on Class91.3FM's Executive Breakfast Show on Thursday, 26 July 2018, indicated that the whole Free SHS programme was "rushed" through in order to fulfil a campaign promise, "but the cost is huge to the nation".
He said now "we are having quantity not quality and even after one year [of implementation], we can see the magnitude of the problem and that is why there is the sudden rush to bring this second review of the policy of double-track system".

He admonished "government to hurry slowly", adding that: "They are taking us down a slippery slope and in the future, we will see that our education system has once again being messed up".