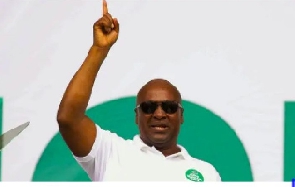 Aspiring Presidential candidate of opposition National Democratic Congress (NDC), John Mahama says the party will complete collation of the Presidential election results by 1:00am on December 8, 2024.
According to him, a robust coalition system will be put in place for real time collation of the results from across the country which the party envisage to know the final results by the midnight after voting.

He said constituency executives and polling agents will be trained together for effective collaboration and supervision of the election.

"After the election we will start training of party agents which the constituency executives will be part of the training because you will supervise the party agents. I want to ensure that on 7th December 2024 by 1:00am the party completes collation of its results for Victory," Mr. Mahama said when addressing delegates from Okere, Akuapem North, and Akuapem South constituencies at Akropong to begin his three-day campaign tour of the region ahead of the party's Presidential election bin May this year.

John Dramani Mahama chastised the Akufo Addo led government for making lofty and unrealistic promises to deceive Ghanaians that he was going to transform the country within one and half year but has been badly exposed with the mess created to the economy and unfulfilled promises.

He said the NDC will not go on that tangent of making lofty promises that it's track records will speak for itself.
"Wherever I go the chiefs, the youth and everybody has been testifying that it was during the time of NDC that they were connected to the national grid. The people credit the NDC for their water, hospitals, schools, road among others t

That they had all these during the tenure if NDC.NDC we don't discriminate that this constituency did not vote for us so we won't give them development. We distribute development evenly. We the NDC will not give Ghanaians lofty promises because Ghanaians have seen what we have done and what we can do."

John Dramani Mahama stated in what appears to be subtle response to threat by Bryan Acheampong that the ruling NPP will never hand over power to NDC saying man cannot change the will of God.

"It is God who installs a leader so man can change the will of God. So what don't mind what people are saying because it is the will of God. As a Christian believer I have Faith in God whenever I kneel to pray God speaks to me that this is the time of NDC that the power has been given to us. No amount of tantrums can change the will of God .So we should continue to pray and trust that whatever God has said can come to pass We only need to work hard because the hardwork at the Constituency levels will help secure the victory."