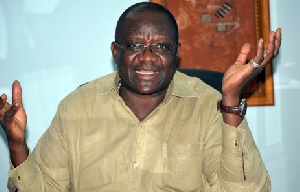 Fri, 15 Jan 2016 Source: The Insight Newspaper
The disputed National Chairman of the new Patriotic party (NPP), Mr. Paul Afoko has disclosed that 22 meetings he initiated failed to resolve the differences in the party.
"I wanted to resolve the differences and create favorable conditions for victory of the party in 2016, and I invited Akufo-Addo to those meetings.

"Akufo-Addo came to the meetings accompanied by different people at different times. On the first occasion, he came with Hackman Owusu Agyeman and later with Madam Ama Busia."

Mr. Afoko was speaking on TV3's current affairs programme "Hot Issues" over the weekend.

He said he decided to resort to the court as a means of upholding the tenets of the party's constitution and to ensure that individuals and cabals do not subvert the decisions of the highest organ of the party.
He said if the party constitution is not upheld, a time may come when an elected flagbearer of the party would be toppled by a small group of people sitting in Accra.

Mr. Afoko insisted that he is not against the candidature of Nana Akufo-Addo and that he will do all in his power to make him win the next elections.

He claimed to have given substantial material support to Nana Akufo-Addo.

He said people be will surprise when the quantum of support is revealed.
Source: The Insight Newspaper