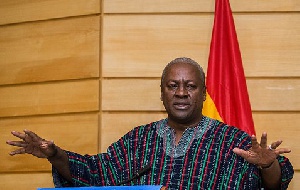 President John Mahama has indicated that about 70 out of the 123 Community Day Senior High Schools being constructed in the country will be ready by the end of 2016.
According to him, 42 of the schools will be ready for students' intake at the start of the 2016/2017 academic year.

Inaugurating a third Community Day SHS in the Volta region, located at Kwamekrom in the Biakoye district on Monday, as part of his 5-day campaign of the region, President Mahama said, "by the end of October, 42 of these schools will be ready, and I have asked the Ministry of Education and the Ghana Education Service to go ahead and populate the schools for this academic year.

"That is at the start of this academic year, 42 of the schools will be ready and we expect that by the end of the year, about 70 of them will be ready."

This latest clarification by the president follows an earlier admission that his government cannot deliver all 200 Community Day SHSs in his first term of office as promised in the NDC's 2012 manifesto. 123 of the schools were however said to be under stages of completion.
That notwithstanding, the president has also urged the communities benefiting from the schools to own them, stating that "these school belong to you, it doesn't belong to the Ghana Education Service, the Education Ministry, the headmaster nor any other person. It belongs to you, as a [Kwamekrom] community."

He also presented a 66-seater bus and a double cabin pick up vehicle to the Kwamekrom Community Day SHS and tasked the staff and students to produce the best of results.

"I don't expect this school to failure, because everything that you need to excel, I have provided. So I want you to be excellent, which the 'E' in the building stands for," he stressed.