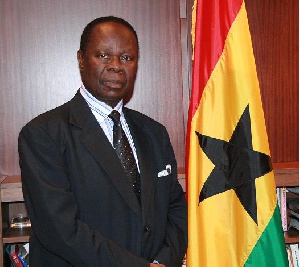 Fri, 18 Nov 2016 Source: Samuel Ablordeppey
A former Ambassador to the United States of America Daniel Ohene Agyekum has stated that the good people of Ghana would make themselves a great disservice if they make a mistake by voting the New Patriotic Party (NPP) on December 7.
He said a vote for the NPP would turn back the clock of the country's development by not continuing the progressive developmental agenda of the ruling National Democratic Congress (NDC), led by President John Dramani Mahama.

Addressing the Chiefs and people of Mampong in the Ashanti region, Mr. Ohene Agyekum who is known in the political circles as "Nana obodua the 1st" said the current government is pursuing an aggressive developmental agenda aimed at transforming Ghana and changing lives.

He said the NPP would stifle the country's development in the unlikely event of taken over the reigns of government, because they don't have the progress of the country at heart.

"If we are not careful and we vote for the NPP, all the good works, schools, water provision, electricity, the roads etc would grind to a halt and leave us in ground zero. Corinthians 15:33 urges us to be careful of sweet promises because they would leave you with disappointment," Ohene Agyekum said.

Mr. Daniel Ohene Agyekum said judging from the achievements of the NDC government under the President Mahama, it would be politically correct to maintain the President to continue with his transformational and progressive agenda.
Ambassador Agyekum is part of the Chief of Staff's tour of the Ashanti region, together with other party stalwarts, including Madam Faustina Nelson, Mr. Kwame Peprah, Prof. Kwamena Ahwoi, and Mr. Samuel Sarpong among others.

"If we do a mistake and vote for Nana Akufo-Addo, what happened to Nkrumah would recur. The UP and the PFP out of which the NPP was formed discontinued all the projects Nkrumah initiated which drew back the country's development. Never again should we repeat such dangerous mistakes.

He submitted that the construction and fixing of cocoa roads across the country to bring relief to farmers would grind to a halt should the NPP be voted to power.

He urged supporters of the NDC to stay resolute and spread the good news and more importantly go out in their numbers to vote massively for President Mahama and the NDC on Dec 7.
Source: Samuel Ablordeppey