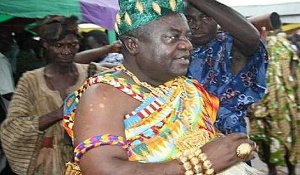 The Chief of Aburi in the Eastern Region, Otubour Gyan Kwasi, has endorsed the candidature of President John Mahama ahead of the crucial upcoming December 7 general elections.
According to him, he's convinced that the President needs another term of office as he's ensure that the Aburi township has gotten its fair share of developmental projects that has been undertaken by the Mahama administration.

Speaking at his palace during the courtesy call on him by President Mahama and his entourage as part of his tour of the Eastern Regional, Minister, Otubour Gyan Kwasi noted that Ghanaians will do themselves a great disservice if they fail to retain the President in power to continue with implementing his policies and programmes aim at developing Ghana to an appreciable level.
"President Mahama's issue is simple…his is an endorsement. It was in this house that we predicted your victory in the 2012 election, and we told you that when you are sworn in, you shouldn't forget us. So if you want another four years, we fully endorse you and will support your campaign. We've gotten our fair share of the projects you're undertaking. We had issues with the terrible state of the Nsawam-Aburi road, we cried over this road and you've had it fixed."

He added: "I made a statement at the Aburi Gardens sometime back but it was misconstrued that I had accused you of not being able to fulfill your promises, which in actual fact wasn't correct. I was rather referring to your ministers, criticizing them for failing to make follow ups and ensure that promises you make are implemented. I have no problem with you… I say I endorse you today. The sort of work you've done has been acknowledged by all. That earlier statement I made has been confirmed now, if Minister were doing what they are expected of, Ghanaians will not wait until now to know what you've done in four years, it would have been seen long ago. Now, all the criticisms of you not performing made in the media by your critics are being countered by pictures of massive infrastructure shown on television. So you can boast of all these great things and you sit idle and allow your opponents to run you down."