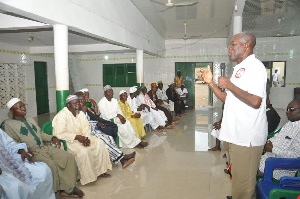 Thu, 24 Nov 2016 Source: Maxwell Okamafo Addo
Vice President Kwesi Amissah-Arthur has called on Zongo Chiefs to advice the youth not allowed to be hired to foment troubles.
Mr. Kwesi Amissah-Arthur made the remarks when he called on the Zongo Chiefs at Agona Swedru as part of his five days campaign visit to the Central Region.

He said the people of the Central Region are peaceful people so should not listen to those who come in the name of violence.

Addressing hundreds of party supporters at a rally he called on the youth not to engage themselves on any act of violence and also must go out there and vote for the NDC massively.

He said the elections is going to be peaceful and should not feel intimidated by any one. So they should close their ears to the threats from the opposition.

Mr. Amissah-Arthur said the NDC government is for the Zongo communities and would continue to bring development projects to their door steps.
He said they know how the NDC government has help in the development in their communities.

Mr. Amissah-Arthur also used the occasion to introduce the NDC parliamentary candidate for the Agona West Constituency Lawyer Obeng Inkoom to them.

He cited the airlifting of Moslems from Tamale Airport and the recognition the NDC attaches to their welfare .So they should give President Mahama a resounding victory come 2016.

The Vice President also visited Agona Kwaman and Bobikuma to interact and also called on them to vote massively for President Mahama for continuity in development as they have witnessed in the region.

He also assured them that government would continue to developed the area because the NDC is a development oriented party
Source: Maxwell Okamafo Addo