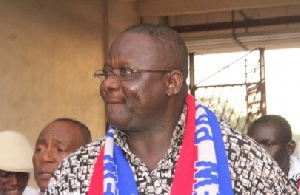 Tue, 19 Jan 2016 Source: The Insight Newspaper
Mr. Paul Afoko the disputed National Chairman of the New Patriotic Party says that there are important facts he does not want to reveal now.
According to him, at a later and convenient date, the world will get to know about some shocking facts and developments.

In an interview on TV3's current affairs programme "Hot Issue" Mr. Afoko claimed to have given substantial assistance to Nana Akufo-Addo.

When pressed to reveal the quantum of assistance, he simply said, "not now."

Mr. Afoko said beyond his opponent's resistance to reform in the party there are other facts that he may make public at a later date.

He claimed that there is an unstated reason why some elements in the NPP are determined to disrespect the mandate of the party congress.
One of the reforms he claimed to have introduced in the party is that money for organizational work ought to be released to the constituencies directly instead of making them available to national and regional officers.

Mr. Afoko said he also wanted the party to operate only one bank account so he could keep an eye on the finances of the party.

Unfortunately, he alleged that some party leaders resurrected a dormant account and diverted monies into it without his approval and that of organs of the party.

Mr. Afoko said those who had been scheming to remove him as National Chairman started their plots long before the Congress which elected him was convened.

"First, they alleged that I was a homosexual, and then they said that I had been convicted of drug offense," he said.
Mr. Afoko said the formal structures of the party were used to vilify him and subvert his effort to become party chairman.

He did not shy away from his friendship with former President J. A. Kufuor saying that "if friendship with President Kufuor is a crime then I plead guilty."

He disclosed that former President Kufuor has asked him to remain calm and to pray hard.
Source: The Insight Newspaper