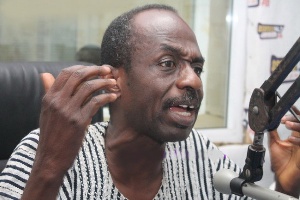 The General Secretary of National Democratic Congress Johnson Asiedu Nketia says the NPP flagbearer is avoiding a debate with President John Mahama because he cannot justify his campaign promises.
According to him, the former attorney fears he will be exposed when asked to explain the source of funding for his numerous campaign promises.

Addressing NDC supporters in the Ashanti region, where President Mahama is currently campaigning, General Mosquito, as Nketia is popularly known, urged Ghanaians to ignore Akufo-Addo because he is desperate and willing to say anything for votes.

"He is just promising anything for votes. He says he will cancel the sources of funding for the new SHS we are building, yet he is also going about promising that he will add boarding facilities to the schools; so how can one person say he will cancel the funding and yet add more to the same facility, where is he going to get the money?
"Again, they are going about saying that they will withdraw all the taxes that government has introduced, so ask yourself, how are they going to raise money to embark on all the projects they are promising when indeed they will require more money to execute them," he enquired.

He continued: "Now we are challenging them to come and tell us where he will raise the money to fund those projects and he says he won't come for the debate, because he knows he will be exposed if he comes for the debate. If he comes to promise that he will use the GETfund to expand educational infrastructure, call him a liar because he has already said he will abolish all that".