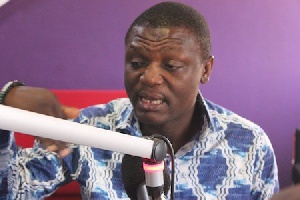 The appointments made by President Nana Akufo-Addo have been ridiculed by Kofi Adams, National Organizer and former campaign coordinator for the National Democratic Congress (NDC).
Speaking in an interview with Kwabena Agyapong, sit-in host of Frontline on Rainbow Radio 87.5Fm, Kofi Adams likened the appointments of Nana Addo to a selection made for a football match.

According to him, Ghana's coach, Avram Grant could not have selected the likes of Abedi Ayew Pele, Samuel Osei Kufour, Stephen Appiah and other known former players because of their past glory or their popularity during their time as players.

In his view, the appointments made by Nana Addo can only be described as a gathering of old-fashioned ministers appointed based on their past glory.
He was responding to a question on whether the NDC are marvelled at the appointments made so far by Nana Addo.

He asked: ''Why should we clap for you as a coach for lining up old-fashioned players when there are equally young good ones?''

''We are monitoring Nana Addo and his team very closely. If he thinks he has a strong team as some may argue, we will wait and see.''