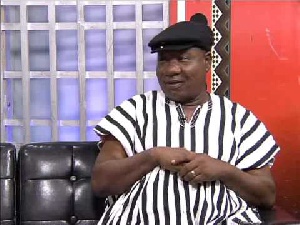 Only an old rickety and virtually useless car is tried on the road after having gone through a lot of attempts to get it repaired without success, the governing National Democratic Congress' Central regional chairman, Allotey Jacobs, has said in direct reference to the appeal to Ghanaian voters by the main opposition New Patriotic Party's flag bearer, Nana Akufo-Addo, to "try me" in the December polls.
Mr Jacobs said at the campaign launch of the party's Cape Coast North parliamentary nominee, Kobby Acheampong, on Saturday, 1 October that Ghanaians will not allow Mr Akufo-Addo to come into power to be tried.

Meanwhile, Mr Jacobs has also said Nana Akufo-Addo's running mate, Dr Mahamudu Bawumia, is a progeny of thieves, if he claims the government of President John Mahama and the National Democratic Congress (NDC) are made up of thieves because his political ancestry can be traced to the NDC.

Warning the main opposition New Patriotic Party's vice-presidential nominee to stop hurling abuses at President John Mahama and his government, Mr Jacobs said that since Dr Bawumia's late father, Mumuni Bawumia, was a respected member of the NDC, the former Deputy Bank of Ghana Governor's thievery flak against Mr Mahama and the NDC retrospectively applied to his father, thus, making him a product of thievery.

Mr Jacobs said Dr Bawumia's persistent accusation of the Mahama administration and the governing NDC as a party of thieves, suggests that his father, who was a Chairman of the Council of State under the Rawlings government, also stole from the coffers of the state to educate him (Dr Bawumia).
He, therefore, warned Dr Bawumia to stop insulting the President and the NDC or face the wrath of the party.

Mr Jacobs' warning to Dr Bawumia follows his recent assertion that despite the NDC "sinking the country's economy into a ditch and after supervising an era of unprecedented hardships", the Mahama administration is claiming to have transformed the lives of Ghanaians.

"When the NPP had only GHS20billion, you saw transformation. You saw the National Health Insurance Scheme, the School Feeding Programme, the National Youth Employment Programme, the free Maternal Care Programme, Metro Mass, Mass Cocoa Spraying exercise etc.; all these interventions were done with only GHS20billion but with GHS248 billion that has come to the NDC, they have collapsed all these programmes and yet they have the audacity to say that they have transformed Ghana, they have only transformed their pockets," Dr Bawumia said.