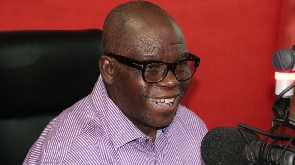 A founding member of the opposition National Democratic Congress (NDC) in the Ashanti Region, Alhaji Saani Mohammed, has descended heavily on President Nana Addo Dankwa Akufo-Addo.
In an interview on Kumasi-based Oheneba1TV on Facebook on September 13, 2023, Alhaji Saani, a member of the council of elders of the NDC in the Ashanti Region, described the president as the devil because he has brought untold hardship on Ghanaians.

He said that Akufo-Addo's recent admission that the next president of Ghana would solve the challenges of the country means that he intentionally brought hardship on Ghanaians.

"We warned Ghanaians about Akufo-Addo but they did not listen. Those who knew him warned us but we did not listen. See the mess we are in today.

"Akufo-Addo is the devil himself... I'm not just symbolising; he is the one," he said in Twi.

The NDC leading NDC member added that the president now wants to use the Vice President, Dr Mahamudu Bawumia, as a stooge to continue ruling Ghana but it would not work this time around.

"He wants to make Dr Bawumia, the poodle of Akyems. But history tells us that Dr. Bawumia would not win even if Akufo-Addo supports him," he added.
Watch the interview below:



BAI/OGB

Ghana's leading digital news platform, GhanaWeb, in conjunction with the Korle-Bu Teaching Hospital, is embarking on an aggressive campaign which is geared towards ensuring that parliament passes comprehensive legislation to guide organ harvesting, organ donation, and organ transplantation in the country.

Watch the launch of the 2023 GhanaWeb Excellence Awards on GhanaWeb TV below:




Click here to start the nomination process for the 2023 GhanaWeb Excellence Awards

Watch the latest episode of Legal Agenda on insurance claims on GhanaWeb TV