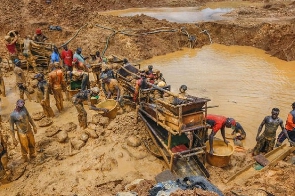 The Minority in Parliament has called for a bi-partisan investigative ad-hoc committee to look into Professor Kwabena Frimpong-Boateng's report on illegal mining.
It is the argument of the Minority that the alleged involvement of some appointees of the government makes it difficult for the president to deal with the matter.

Ranking member on the committee on Mines and Energy, Dr. Rashid Hassan Pelpuo, who addressed the media opined that the Nana Addo-led administration is not prepared to deal with the menace of galamsey.

"Having read Professor Frimpong-Boateng's report on illegal mining, we the Minority have come to a painful conclusion that the Akufo-Addo-led government is fully stripped of all semblance of a serious government entrusted in securing the country's environment for future generations.
"We want to assure Ghanaians that the government will be monitored to ensure that something definite happens in these allegations. We want to assure them that Parliament will set up a bi-partisan investigative committee, maybe an ad hoc committee, on this matter upon request by the Minority so that we can understand the issues," the Member of Parliament for Wa central said.

According to the lawmaker, the Minority caucus wants Ghanaians to develop an interest in the matter.

"We call on the public through appropriate civil society groups to demonstrate an interest in this matter. It is the worst we have ever had in which the watchman has become the thief," the MP said.