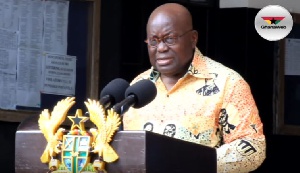 President Nana Addo Dankwa Akufo-Addo was at the 90th anniversary of the Krobo Girls' Senior High School in the Eastern Region over the weekend, shedding further light on the free education programme.
The president reiterated his government's resolve to roll out the free SHS policy from the 2017/2018 academic year.

Though the source of funding of the policy was settled by the Minister of Finance, Ken Ofori-Atta, on Thursday, March 2, when he read the 2017 budget statement, it appears part of the proceeds from the country's oil resources may also be used for the rollout.

This will then support an earlier indication by Senior Minister Yaw Osafo Marfo that the Heritage Fund will be used. Mr Ofori-Atta had stated in the budget statement that government will use annual budget funding amount (ABFA) to fund the free SHS policy.

But speaking at the 90th anniversary of Krobo Girls' SHS on Saturday, President Akufo-Addo said government will use "the proceeds from our natural resources, as captured in the 'Asempa Budget', to help educate the population to drive our economic transformation".

He explained that: "Instead of the revenues from our mineral and oil resources ending up in the hands of a few people, I am of the firm belief that the most equitable and progressive way of using these revenues is to educate and empower our population".
"It is for this reason," he added, "that my government has indicated that it will fund the cost of Senior High School for all, beginning with the intake of the 2017/2018 academic year."

The president clarified that free SHS will also cover agricultural, vocational and technical education. He also indicated that teachers will not be left out in the grand scheme to get a majority of the population educated.

"For us to make a success of our education policy, we must pay attention to teachers.

It is only a crop of well-trained, self-confident and contented teachers that can deliver the educated and skilled workforce we require to transform our economy.

Government intends to restore the teaching profession to the status it once enjoyed, and make it an attractive career choice."