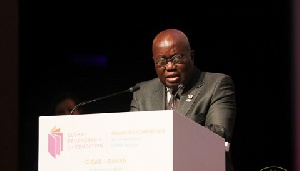 President Akufo-Addo has urged African Leaders to earnestly provide free education from Pre-School to Senior High School for their citizens.
According to him, this is the sureway of securing the needed human resource required to engineer development on the African continent.

Speaking at a Conference held in Nigeria on Transformative Governance in Africa, President Akufo-Addo said he'll not hesitate to prescribe free SHS policy adopted by his government to other African leaders to power their human resource base.
"I hesitate to prescribe policy initiatives for other countries, but on a matter education, I have no hesitation whatsoever in recommending that all African countries adopt the policy of free compulsory education from Kindergarten to Senior High Schools. This is one of the most important things we have to do if we have to make the transformation from our current state of poverty to prosperity," Mr. Akufo-Addo said.

The Free SHS programme in Ghana was launched last year to absorb tuition and other related fees at the Second Cycle level of education. Over 90,000 students who would have been left out of school are currently benefiting from the programme by the governing New Patriotic Party(NPP).