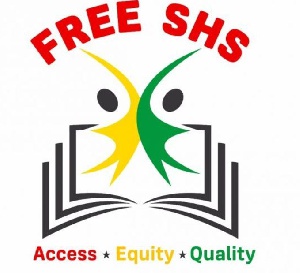 President Nana Addo Dankwa Akufo-Addo has unveiled government's much touted free SHS policy logo at a ceremony at the Flag Staff House in Accra.
The President is confident that Ghana will have same story to share as the Americans after the successful take off of the Free SHS policy effective, September 1, 2017.

For him, what America has become after introducing free Secondary Public Education will be the story of Ghana as it introduces same.

"…The first country in the World in modern times anyway to institute the system of Free Secondary Public Education was the United States of America. And the USA did this a century ago at the time when the level of development was very not much more than ours. I hope that all of us in Ghana can see the connection between that big event and where America is today as the economic power of the World. I believe that if we understand that connection we'll all support this initiative."

Professor Kwesi Yankah, Minister of State, in charge of Tertiary Education, explained the details and design of the logo.

About the Logo

The design highlights an open book, on which is suspended a sketch of two delighted school children leaping in jubilation. Underneath the symbol are three words: Access, Equity, and Quality boldly inscribed.
The Open Book represents learning that generates hope and optimism for a prosperous Ghana. The central symbol portrays two children emerging from a pleasurable learning experience, as they spontaneously explode in joy. They are beneficiaries of a policy that lifts the total burden of fees from parents.

The two then have a reason to jubilate, but their animated mood also represents optimism for a brighter tomorrow.

The highlighted themes of Access, Equity and Quality underline the principles that drive the policy.

Access: The policy aims at widening access to senior high school education, and education in general.

Equity: This is a fundamental driver in any social intervention programme. Poverty, gender, deprivation, etc. should no longer be barriers to education. The Government is eager to ensure a fair and just society where there are equal opportunities for all, irrespective of family circumstances.

Quality: The expected expansion of access to education will be achieved, without the need to compromise quality education. The package comes with qualitative instructional material, improvement in school infrastructure, as well as teacher motivation and capacity building.
The Open Book stands for Learning that is made accessible, so others can share: free education is the foundation for national development; it generates hope for future generations and enables students from diverse backgrounds to study towards transforming lives and uplifting their communities.

The color code, Red, Gold and Green, with black in parts, represents Ghana's national identity.

The free SHS policy adds value to prevailing free primary and junior high school policies, to make pre-tertiary education a totally free undertaking that should eventually position Ghana to enhance the quality of its human capital to boost national development.