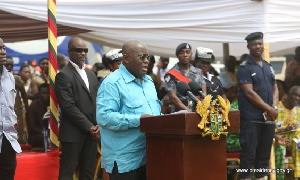 President Nana Addo Dankwa Akufo-Addo wants Ghanaian students from basic to the senior high schools to be served with cocoa drinks each morning, the Acting CEO of Cocobod has said.
This is to allow the students to enjoy the benefits of Ghana's cocoa products, he added.

Joseph Boahene Aidoo made this known on Tuesday, February 14 in an interview with 3news.com's Yvonne Neequaye as part of Chocolate Day celebrations.

"We are putting in place measures to periodically serve our school children with chocolate and cocoa products," he said in Twi.

He listed the many benefits that cocoa products provide, saying one does not get easily tired by drinking cocoa.
Even if one is tired, he explained, one easily gets replenished after drinking cocoa. He said women in their period will find drinking cocoa most beneficial as it boosts blood transfusion.

These hitherto unknown benefits will be popularized from hence, the former Western Region Minister said.

He said local consumption of Ghana's cocoa products will be promoted given the high costs on the international market.