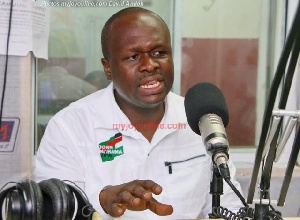 Minister of Communications, Edward Omane Boamah has backed comments made by President John Mahama concerning flagbearer of the New Patriotic Party (NPP), Nana Addo Danquah Akufo Addo that because of the divisive nature of the latter, he could destool chiefs who criticize him.
President Mahama, the NPP flag bearer may cause the destoolment of chiefs who will speak against his government if he wins power in the December 7 election.

The president, who was speaking at a rally at Suhum in the Eastern Region said Ghanaians will do themselves a great deal of disservice if they vote for such "an intolerant leader who is not ready to accept any contrary views" to his position on issues.

"Nananom, if he (Akufo-Addo) becomes President and you criticize him, he will destool you," he said.

His comments have been hugely criticised as some political pundits think it is impossible and will be against the law for a President to destool a chief.

Even though the NPP flagbearer has denounced those statements by the President accusing him (President Mahama) of having no campaign message, and resorting to the politics of scaremongering and untruths in his bid for re-election, Dr Omane Boamah insists 'he will do it'.
Contributing to a panel discussion on Radio Gold's Alhaji and Alhaji, the Communications Minister said if Nana Addo has superintended over the suspension of kingpins in the NPP and ensured the reign of a culture of silence in the party, "what shows he cannot do it when he becomes President?"

"He will do it…If he has done it as a flagbearer what shows he cannot do it when he becomes president…" he opined.

Omane Boamah has therefore asked Ghanaians to choose President Mahama 'who has proven to be humble' and peace-loving.

"It's a choice between peace and humility and violence and arrogance and everybody knows Nana Addo is nowhere near humility and peace…" he added.