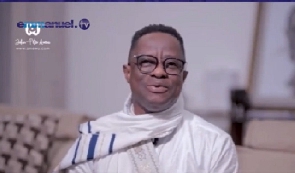 Minister of Railways, Hon. John Peter Amewu, Tuesday, endorsed the presidential bid of Alan Kyerematen at the maiden edition of Hon Kyerematen's innovative cluster constituency meetings with party delegates across the country.
The novel programme which started in Accra Tuesday, saw Hon Kyerematen meeting with all three Ablekuma constituencies of North , South and Central, grouped together as zone one

The endorsement by Hon. Amewu, a respected figure in Ghanaian politics, was admist shouts of 'no Alan; no vote', 'Alan the people's choice', among others.

The event, held at Liberty Astro Turf Park in Accra, witnessed an enthusiastic gathering of delegates from the three Ablekuma constituencies, cheering Hon Kyerematen on and assuring him of their support as the only candidate who can 'break the 8' and ensure the continued stay of the NPP in government for the good of the country.

Hon Kyerematen, affectionately known as 'Alan Cash,' earned his accolade from his successful tenure as former Minister of Trade and Industry where he created avenues for employment through the establishment of factories and incentives for trade.

His notable achievement in revitalizing industrialization under the One District One Factory (1D1F) initiative as well as the policies and programmes laid out in his Great Transformationl Plan (GTP) has earned him admiration from business leaders, policymakers, and Ghanaians at large.

As part of Kyerematen's vision, the GTP is expected to be the conduit and symbol of progress, highlighting the ingenuity and creativity of Ghanaian industries to economic emancipation on the global stage.
"Recognizing the pivotal role of industrialization to Ghana's economic growth, Kyerematen has championed policies and initiatives to promote local manufacturing and create employment opportunities.

"With a wealth of experience in both the private and public sectors, Kyerematen is uniquely positioned to navigate the complexities of developing Ghana's industries, fostering entrepreneurship, and attracting foreign investments", Hon Amewu told the cheering delegates.

By leveraging his industrial expertise, Kyerematen envisions a nation where Ghanaian businesses thrive, leading to enhanced economic prosperity and improved standards of living for all citizens.

According to Amewu, Alan Kyerematen is renowned for his marketability, which stems from his ability to connect with people from all walks of life. His charismatic personality and genuine concern for the welfare of Ghanaians have endeared him to delegates across the country as witnessed by the huge turnout.

Hon. Peter Amewu emphasized Kyerematen's magnetic presence, highlighting his unwavering dedication to serving the people of Ghana, which sets him apart as a true statesman.

Alan Kyerematen's political journey spans over three decades, during which he has held various high-ranking positions, including twice as Minister for Trade and Industry under two different NPP administrations.
This extensive experience equiped the former Trade and Industry Minister with profound understanding of the intricacies of governance and policymaking, Hon Amewu said adding:

"His proven track record of effective leadership and successful policy implementation positions him as a candidate capable of delivering on his promises, driving sustainable development, and leading Ghana into a prosperous future".

As the Nationwide Constituency Durbars continue to resonate throughout Ghana, the endorsement of Hon. Amewu, among others, adds to the increasing acceptability of Hon Kyerematen as the preferred candidate to lead the NPP into 2024.

With a vision for a prosperous Ghana, Alan Kyerematen embodies the leadership qualities needed to transform Ghana into a beacon of progress on the African continent and beyond.

The NPP national delegates Congress is slated for November 4, 2023.