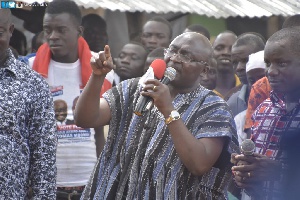 The National Organizer of the opposition National Democratic Congress (NDC), Kofi Adams says the Vice President, Dr. Mahamudu Bawumia who the ruling New Patriotic Party (NPP) hailed as a 'heavyweight politician' prior to the 2016 Elections is becoming inactive in government.
The renowned economist, was vociferous in criticizing the erstwhile Mahama-led government for the poor management of the country's economy.

He had remained consistent in attacking the past government's economic policies, until his party defeated the NDC in the last polls held in December last year.

For many political watchers of the Ghanaian political landscape, it was obvious that Dr Mahamudu Bawumia was a thorn in the flesh of the then ruling NDC party.
However, Adams argue that the vibrant and 'darling boy' of the NPP who Dr. Bawumia used to be, before he rose to become the Vice president is not the same person in government, insisting that Dr Bawumia has lost his political savvy being a Vice President.

"At a point in time, I thought there was no Vice President. I can't feel him in action. If you look at the level of visibility then, I expected to see more of him now that he's become a Vice President," Adams said on Asempa FM's Ekosii Sen programme Friday.