General News Mon, 3 Oct 2016
Click for Market Deals →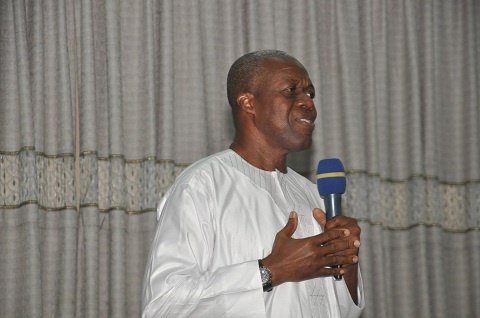 The Asokwa Area Head of the Church of Pentecost, Apostle Ekow Badu-Woode has chastised those Men of God who have become election prophets and advised them to desist from putting fear into the people. Apostle Badu-Woode described such prophets as charlatans, reminding them that Ghana is a democratic state and not theocratic one.
He made the statement when the Vice President Kwesi Amissah-Arthur joined hundreds of worshipers at the Pentecost International Worship Centre at Asokwa in the Ashanti Region

Apostle Ekow Badu- Wood the Asokwa Area Head of the Church of Pentecost described the Vice President Kwesi Amissah-Arthur as a God fearing, humble and a forthright Person.And that he brings his faith as a peacemaker into his practice as a politician. He said Vice President Kwesi Amissah-Arthur is the type of leader that Ghana needs.

He described the Vice President as someone who through humility has not separated his office from God. That is the reason why President Mahama chose him as his running mate again.

In his sermon Apostle Badu-Wood said we are now in democratic dispensation, so those calling themselves prophetic pastors should allow state institutions to work and not hijack democracy.

He said the will and choice of God for a leader will manifest through the pattern of voting and not from pastors,especially those always saying God has revealed to them who would lead Ghana.He also prayed for the government and the people of Ghana for a peaceful election.
He further stated pastors should stop hijacking democracy by saying God has revealed to them. He further stated that they should allow the Lord to speak through the ballot. Adding that ballot Box voting is a Divine way that God appoints his leaders because Democracy is of God.

Hence his call on pastors and men of God to keep their prophecy's and wait .if it does not work then then they should reexamine them self's. He said such prophecy's put fear in the people. Rev Wood said any calling without listening leads to disaster. Ballot Box voting. He said is a Divine way that God appoints his leaders. He also called on Ghanaians to do brotherly politics and not bloody politics.

On his part the Vice President Kwesi Amissah-Arthur thanked the church for the welcome. He said it only God who directs us to work for his ultimate good. In Work places and everywhere one goes, Leaving it to the greater things for. Gods deeds, so that good deeds would follow us and bless those are those who die in the Lord.

Vice President Amissah-Arthur gave thanks to God for how far he has brought the country and kept it intact. He was grateful to God for his life.
Source: Maxwell Okamafo Addo
Send your news stories to and via WhatsApp on +233 55 2699 625.