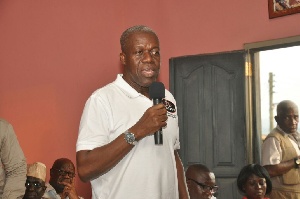 By: Maxwell Okamafo Addo
Vice President Kwesi Amissah-Arthur has directed the Ministry of Lands and Natural Resources to as a matter of urgency meet with the board, management and leadership of workers of Sankofa Gold Mine Ltd in Prestea to resolve the challenges confronting it.

For some months, workers of the mine have not been paid and they have petitioned government.

The Vice President gave the directive in Prestea on the first day of his four-day campaign tour of the Western Region. Also, the Prestea underground mine, which used to employ more than one thousand workers but was closed for years, will resume operations next year.

Vice President Amissah-Arthur visited Prestea, Huni Valley, and paid courtesy calls on the chiefs and addressed mini rallies. He made a whistle stop in Abosso and ended the night in Tarkwa.
The Chief of Prestea, Nana Nteboa Prah, appealed to government to either terminate the contract of the contractor doing the town's roads or advise him to increase the pace of work. He also called for the setting up of a development blueprint such as Wassa Development Authority, to speed up infrastructural development of the whole Wassa area, noted for gold production. He asked government for a district hospital and Nana Nteboa Prah was hopeful that President Mahama will be retained to continue with his good works.

Mr. Amissah-Arthur said the ruling NDC will continue to be truthful to the electorate unlike the NPP that is determined to peddle falsehood about the NDC government with the hope that the electorate will buy into it. He said the vision of President Mahama is to ensure that every district has a modern hospital but where there are difficulties government will not hesitate to explain it to the people. An enthusiastic NDC supporters welcome the Vice President to Huni Valley.

The Chief Nana Kwabena Amponsah stressed the need for a peaceful polls. He appealed to government to expand the Huni Valley clinic, put more roads in the area under the cocoa roads programme including the Bogoso-Huni Valley road. Mr. Amissah-Arthur assured the chief and his elders that their concerns will be addressed. He urged the NDC supporters not to relent in their campaign as every vote count.

They should also not be complacent but keep working until President Mahama is re-elected. The Vice President introduced the NDC's parliamentary candidate for Prestea Huni Valley, Robert Cudjoe to the chiefs and the supporters.