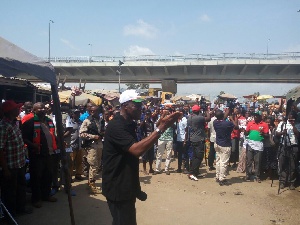 Wed, 23 Nov 2016 Source: Maxwell Okamafo Addo
Vice President Kwesi Amissah-Arthur has issued a stern warning to all political parties in the country to educate their supporters against acts of political violence or intimidation.
He made the statement when he called on the chief of Odupong Kpehe, Nai Awoshi Tetteh Odukpon 11 at Ofaakor in the Awutu Senya East Constituency in the Central Region.

He said security services are on the high alert and anyone found fouling the laws of the country be it NDC or any party would be dealt with according to the laws of the country.

He told Nana Odupon that the purpose of being at his palace was to pay homage and also seek permission to campaign in his area, then also introduce the NDC parliamentary candidate for the area Dr Adams Nuhu so that he would be able to lead the party there and compliment the good works for the NDC.
Mr Amissah- Arthur said continuity is key and as they can witness a lot development projects has been witnessed in the area so that President Mahama would secure a one touch Victory.

On his part Odupon Tetteh said he's a witness to the unprecedented works that has been witnessed from Flyover to E block and other infrastructure development.

This he said makes President Mahama the best choice for continuity. So Ghanaians should give him a chance.
Source: Maxwell Okamafo Addo