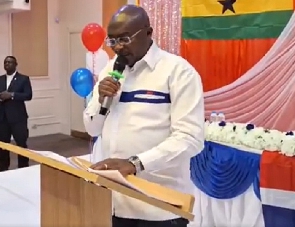 The United Kingdom and Ireland Chairman of the Progressive People's Party (PPP), Kit Yawson, says that while Vice President Dr. Mahamudu Bawumia is welcome to run in the presidential election, he will be a "serious joke."
He asserted that the Vice President would be a joke because he had been with President Akufo-Addo all through this time, and yet there is nothing positive that we have seen from him and his boss.

The politician wondered what new Dr Bawumia would bring on board as president since we have witnessed his failures under the current administration.

"Alhaji Bawumia is most welcome to try and be the president of Ghana. He will be a serious joke because he has been with Nana Akufo-Addo through all these times. What development has occurred even in Bawku, Bole, and the areas the Vice President comes from? What advice did he give Nana Addo? He did not give him good advice."

He was speaking to Dr. Ren on Rainbow Radio 92.4 FM via a telephone interview in the United Kingdom.
He added that the second gentleman of the land does not scare his opponents and that he [Bawumia] is afraid of himself.

"Dr. Bawumia is comparable to Kwaku Ananse. He's afraid of himself. We want to see if he is capable of competing. If he believes otherwise, why did his party lose the by-election in Assin North? Why did the NPP lose the by-election if they worked hard and achieved so much?"

We warmly welcome him to the contest. We're familiar with him and what he's capable of. So he is welcome to compete. He's a joke, and Ghanaians have a great sense of humour. At the same time, we know that not everyone is an idiot."