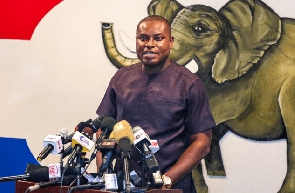 Richard Ahiagbah, the Communications Director of the New Patriotic Party (NPP), has stated that any of the ten flagbearer aspirants from the party would make a better president compared to John Mahama of the National Democratic Congress (NDC).
During an appearance on JoyNews' Newsfile (July 14), Ahiagbah expressed his belief that each of the NPP's flagbearer hopefuls is qualified and possesses the necessary experience to lead the country.

He emphasized that the party's delegates have consistently made the right choice in electing leaders, giving him confidence in the outcome of the upcoming primaries.

"One thing I know is that any one of these ten individuals will be better than the NDC's alternative," Ahiagbah stated.

Ahiagbah was responding to claims made by Felix Kwakye Ofosu, the former Deputy Minister of Communication in the Mahama-led administration, regarding the complexity of the flagbearer selection process.
He highlighted that the names of the qualified aspirants would be published on July 21, followed by balloting on July 24, 2023.

A special electoral college would be held on August 26, 2023, to reduce the number of candidates to five.

The first balloting of the final five qualified candidates would take place on August 28, and the national congress would elect a flagbearer on November 4, with a run-off scheduled for November 11, 2023 if necessary.

While acknowledging that the process could have been simplified, Ahiagbah expressed his belief that the current process is clear and impartial, providing equal opportunities for each representative to convince the delegates why they should represent the party in the national elections in 2024.
"We are determined to win the 2024 elections," Ahiagbah added, emphasizing the party's commitment to positioning itself for success in the upcoming elections.

GA/SARA

Watch the latest episode of The Lowdown:




You can also watch this episode of People & Places here:




Share your news stories and ideas with GhanaWeb




To advertise with GhanaWeb