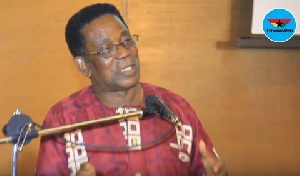 The National Democratic Congress has descended heavily on Minister of State in charge of Tertiary Education for attacking the integrity of Former President Mahama.
In a strongly worded statement issued by the PRO of Education Ministry on behalf of Professor Yankah, the PRO lashed out at Former President Mahama for suggesting a certain 'Professor Yankah' was not consulted on Free SHS.

However, in a swift response, the Central Region communications team of the NDC has called for immediate apology as the Prof. Yankah referred to by Former President Mahama during his tour of the region was a lecturer of UCC.

The communications team observes the reaction from the PRO and Minister of Sate in charge of Tertiary Education lacked tact and was disappointing.

They thus called on Minister of State and the PRO to apologise for their wrong use of discretion as they could have been more circumspect in handling the matter.
Read the full statement below:

NATIONAL DEMOCRATIC CONGRESS CENTRAL REGIONAL COMMUNICATIONS

for immediate release

Cape Coast
3rd October 2018

HON KWESI YANKAH MUST APOLOGISE TO HIS EXCELLENCY JOHN DRAMANI MAHAMA AND ALL GHANAIANS IMMEDIATELY.

We are appaled at the level pettiness, comics, cluelessness and arrogance appointees of the Akuffo Addo/Bawumia NPP Govt continues to exhibit in their daily interaction with the citizenry as well as eminent Stakeholders seen not to be from their political tradition.

How on earth will Hon Kwesi Yakah cause Ekow Vincent Assafuah who even lacks due diligence to issue an insulting press release directed at His Excellency John Dramani Mahama merely because the Former President who is also the incoming President had mentioned one Prof Yankah in his remarks as one of the eminent educationists to be consulted in the review of the Free SHS. Can you imagine?
Prof Victor Yankah of UCC (pictured siiting at the table with Regional Chairman -Hon EKT Addo when JM was speaking) is the man Former President John Dramani Mahama made reference to during his encounter with the delegates of Cape Coast North Constituency in respect of the "Free SHS Policy Review" comment he made.

Thus, H.E John Dramani Mahama was not referring to Hon Kwesi Nyankah (Minister of State in Charge mof Tertiary Institution). It is therefore unfortunate for the Minister to sanction his PR to issue such a jaundiced statement yesterday to malign JM and we strongly condemn it without mincing words.

The Education Ministry is for serious business and if appointees who are deemed to be educated and with all the human resource at their disposal can be churning out misleading information as well as unverified facts, then Ghana is in for a shocker. It is in this vein that we in the NDC in the Central Region call on Hon Kwesi Yankah to apologise to His Excellency John Dramani Mahama and all Ghanaians for this pettiness in the highest order.

Come to think of it, is Hon Kwesi Yankah really proud of the way the Free SHS (which is even constitutionally mandated) is being implemented as he claimed? Hurriedly implemented campaign promise not backed by any policy document and not backed up with infrastructure spending? Implementing the free SHS scheme without scaling up the provision of materials, equipment, infrastructure etc with many students learning under trees, or sitting on the floor as well as overcrowding and it's associated challenges?
No wonder JM did not mention his name but that of Prof Victor Yankah, Dr Paulina Ampomah, Prof Stephen Kendie and many others. Indeed, Hon Kwesi Yankah must apologise immediately if he has honour or conscience. Thank you.

Signed

Kwesi Dawood

Reg Comm Officer