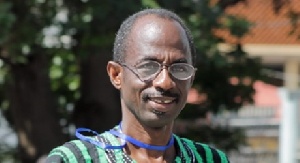 Sat, 9 Jan 2016 Source: atinkafmonline
A group calling itself the United Zongo for Bawumia is calling on the police to arrest the General Secretary of the National Democratic Congress (NDC), Mr. Johnson Aseidu Nketia, for his role in the registration of 76,000 Togolese as Ghanaian voters.
The leader of the group, Ibrahim Adjei made the call at a press conference held in Accra on Friday. "Asiedu Nketia has proven time and again that he is nothing than a joker in the pack of an NDC house of cards that is falling apart and has lost the ability to lead Ghanaians. On this note, we wish to inform the BNI, and the Police and the Military who have sworn an oath of allegiance to the nation, to arrest and question the General Secretary of the NDC," he said.

"We urge the security service to exercise the authority that the state has invested in them, and in light if the revelations of Adjase and his colleagues about how the NDC party financed the illegal registration of Togolese citizens –proceed forthwith to arrest Johnson Aseidu Nketia," he added.

The group said it was instructive to note that the Electoral Commission, by its own admission has not sighted a copy of the Togolese Electoral Roll, but have come to unconvincingly tell Ghanaians that the evidence presented by Alhaji Dr. Mahamadu Bawumia was unconvincing."
Earlier in the week, Mr. Johnson Asiedu Nketia in a press briefing at his party's headquarters called on the security service to arrest the running mate of Nana Addo. He said, "the reason why we are calling for the arrest of Alhaji Bawumia is that if you falsify public documents with the intention of deceiving people, our laws should have a way of dealing with u."

According to the group, the NDC scribe has proven time and again that "he is nothing more than the joker in the pack of an NDC House Of Cards that is falling apart and has lost the ability to lead Ghana."

"Leading Ghana, however, is NO JOKING MATTER, and it is, therefore, important in this election year when tensions are high, and misplaced utterances can set Ghana on a different path altogether, that we-The United Zongo For Bawumia set the records straight," it said.
Source: atinkafmonline