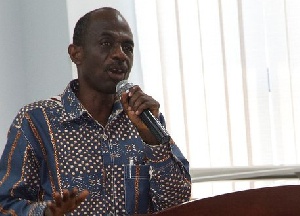 General Secretary of the National Democratic Congress (NDC) Mr. Johnson Asiedu Nketia has taken a swipe at executives of Teacher Trainees Association over their criticism of government's withdrawal of allowances for them.
He indicates that the executives have arrogated to themselves powers and going round the country to champion a crusade against the ruling government and therefore want them to be hooted at.

The NDC stalwart observes that the executives are a minority of the entire population of teacher trainees in the country and therefore cannot dictate to the majority which party to vote for at the December 7 polls.

"They cannot determine who the rest of the students should vote for. If they come trying to instigate you against the government, hoot at them because it is not within their right to determine who their colleagues should vote for." He said.
Speaking to Kwame Adinkra on Abusua Nkomo, he said the policy has rather led to an increase in enrolment figures with more number of trainees at the various colleges of education throughout the country. According to him, it is absurd the executives will be kicking against such a policy when it makes teacher education more accessible to the masses aimed at curtailing the pupil-teacher ratio deficit in the country affecting teaching and learning.

"These are sound policies that even made it possible for them to get enrolled into the various teacher training colleges. Why will they be opposed to it and want to use it a trump card to campaign against the NDC.

They are not those to determine whether their colleagues should vote for us or not. Those communities who hitherto the introduction of the new policy had no teachers and those who can now attend colleges as a result, will vote for the NDC", he boasted