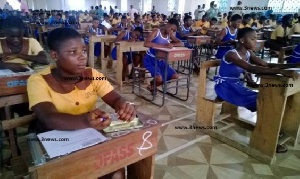 The Ghana Education Service (GES) says final year students would be given another opportunity to select their Senior High Schools after the impending Basic Education Certificate Examinations (BECE).
Management of GES is, therefore, calling for calm among students as they prepare to write their first external examinations in June.

All candidates would have up to three weeks after the writing of the BECE to do their schools selection, GES has assured.

Following the challenges that parents encountered when the Free SHS Policy was rolled out last year, most parents have been agitating as their wards are unable to select their preferred schools for now.
Usually, final year students are given the opportunity to choose from a list of Senior High Schools across the country months before the beginning of the final examinations.

But management of GES in a statement assured that "all candidates that there is no cause for alarm and they should not be distracted by this development".