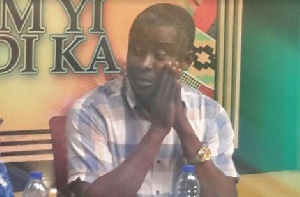 Wed, 22 Feb 2017 Source: ATV
Despite the numerous plaudits President Nana Akufo-Addo received after the maiden edition of his address to the nation, a communications team member of the National Democratic Congress has refused to join the praise singers.
Mr. Kwaku Asare stated on ATV's Asem Yi Di Ka show that the president's entire address to the nation was simply a repetition of his 2016 campaign message and nothing new as his party members attempt to portray.

He simply described his address to Ghanaians today, as lies.

"It was a repetition of his campaign message- it didn't reflect the true state of our economy", he stated.

According to the NDC stalwart, rather the repetition of messages delivered by the president, he had expected him to talk about the issues of insecurity that is cropping up under his tenure.

"Now any person in uniform can stop you and take your car. Is that what Ghanaians are expecting from the Nana Akufo-Addo led government?" he quizzed.
During the state of the nation address, President Nana Akufo-Addo mentioned that the Free SHS starts with the 2017/2018 entrants into the public SHS.

He also stated that "we shall embark upon a vigorous expansion and re-equipping of Technical, Vocational and Agricultural schools and align all TVAET under the Ministry of Education to ensure standardisation."

But Mr. Kwaku Asare disputed the ability of an Akufo-Addo led administration to implement an educational system that would afford SHS students quality education.

"He talked about free education, but Ghanaians expect quality education and not the quantity wholesale education he is talking about. He should come again as president about the true state of the nation", he said.
Source: ATV