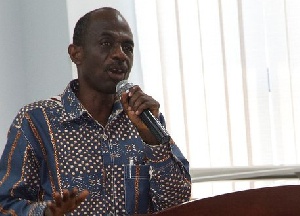 The General Secretary of the governing National Democratic Congress (NDC) has revealed that Samira Bawumia, wife of Dr Mahamadu Bawumia, New Patriotic Party (NPP) Running mate was a dyed-in-the-wool NDC member.
According to him, both Bawumia and his wife have once had a strong NDC background but changed their minds due to reasons best known to them.

The NDC Scribe made the disclosure while commenting on Dr Mahamadu Bawumia's incessant attacks on the NDC, describing the Mahama-led administration as incompetent.

Mr Asiedu Nketia recently asked his party members to pray for the NPP running mate to grow out of his ignorance and realize the kind of party he calls his own. He noted that the New Patriotic Party has taken advantage of the ignorance of Dr. Bawumia and using him for the party's own agenda.
Speaking on Okay FM, Mr Asiedu Nketia aka General Mosquito stated that both Bawumia and his wife, Samira have lost their way as their rightful place is the NDC party.

"Go and ask Bawumia's wife (Samira) if she was not a deputy women's organizer for the Tertiary Educational Institutions Network (TEIN) of the NDC during her days at the university. Bawumia's mother was also an NDC constituency women organizer, and his elder brother was also appointed an Ambassador to Burkina Faso during this NDC regime, and another brother of his contested on the ticket of the NDC as the Parliamentary candidate."