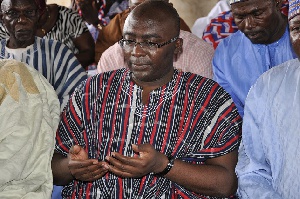 General Secretary of the National Democratic Congress (NDC), Johnson Asiedu Nketiah says the New Patriotic Party's (NPP) largely don't believe in equal rights of all citizens, hence Bawumia's promises to Northerners will come to naught when his party is voted into power.
Mr. Asiedu Nketiah explains that Bawumia, an indigene of the Northern region might be ready to champion the interest of the people up-north but said "he's in a bad company and therefore cannot help Northerners"

He insists that"It's only the NDC that stands for equality and in the past we were able take away humiliation of Northerners as second class citizen. So Northerners should be careful with voting for the wrong person and wrong party."

The NDC's scribe maintained that the beliefs of the NPP should be a worrying signal for the people up-north to vote for the Dankwa-Busia Dombo tradition to take over government since the NPP per their beliefs sees people of northern extraction as second-class citizens.

Shedding light on his "Trojan horse" remarks which he said of the former Deputy Governor of the Central Bank and the running mate of the NPP Flagbearer recently in the Upper East region, on Anopa Kasapa on Kasapa 102.5 FM, Mr Asiedu Nketiah said he [Bawumia] alone cannot change the policies of the NPP.
Citing late vice President Alhaji Aliu Mahama to make a point, Mr. Asiedu Nketiah popularly known as General Mosquito said the late statesman was still in the NPP when the NPP ganged up to stop Northerners in the south from registering prior to the 2008 elections.

"It's about the beliefs of NDC and that of NPP, that is where we draw the line" he said, adding "When this country plunged into the power crisis they came out to say that, the problem persisted because we undertook massive electricity expansion even to the villages."

According to him, except when the NPP want to use those from the north for a purpose, they always consigned them to the back burner when they're in government, even with die hard members of Northern extraction.