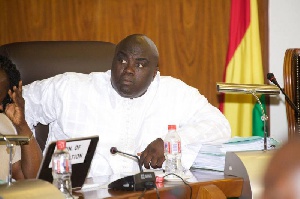 The people of the Brong Ahafo Region will vote massively for President John Dramani Mahama in the December 7 presidential and parliamentary elections following the good works he has undertaken in that part of the country and other areas, Julius Debrah, Chief of Staff, has said.
According to him, the people of the region had seen and benefited from the numerous projects undertaken by the National Democratic Congress (NDC) government and that would influence their voting decisions this year.

Speaking to the media after a campaign tour of the region on Saturday, October 22, Mr Debrah said: "Let me say a big thank you to the people of the Brong Ahafo Region. The president left here barely a week ago but if you look at the way they have received us – the chiefs, the reaction of the people, the students – it's so marvelling. At the job summit, we counted well over 8000 [people] and this is an indication that they have really accepted us and the most important aspect of the whole trip is to make sure that whatever we stated in our manifesto, we carry it to the people and explain to them.
"We don't believe that you can win elections by staying in Accra and insulting people on radio, insulting people on social media; it doesn't travel that much. What matters is that you need to show respect to the citizenry. Go back to them, thank them for what they have done for you so far, tell them what you intend doing for the next four years, and they will buy into it. And I believe from the reaction so far, Brong Ahafo is going to vote massively for President Mahama, and let no one who decides to sit in their comfort in Accra (and) insult believe that hard work doesn't pay.

"We (NDC) believe that hard work pays and for the fact that we have been here to show respect to them, they are going to vote for us."