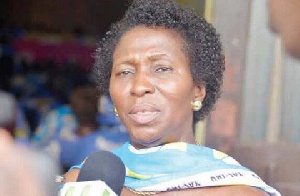 The Conference of Assisted Secondary Schools (CHASS) has called on the government to prepare a document which it terms as 'Free SHS Bible for Heads of Schools' to aid the successful implementation of the free SHS policy.
According to the President of CHASS, Cecilia Kwakye Cofie, the document should contain a clear-cut blueprint that will ensure that heads of senior high schools do not overstep their bounds in the implementation of the Free SHS policy.

Speaking at the 15th annual conference held in the Volta Regional capital, Ho, Mrs. Kwakye-Cofie welcomed government's decision to add heads of schools to the free SHS policy and called on her colleague heads to ensure that the policy succeeds.

"The free SHS will bring greater and meaningful participation of our democracy because the literacy rate could shoot up. As much as it depends on us, we owe it a duty to ensure the programme succeeds," she entreated.

The free SHS policy, which was one of the main campaign promises of Nana Akufo-Addo's NPP government, is set to start next week when the 2017/18 academic year starts and over 400,000 prospective students stand to benefit from it (policy).

CHASS therefore called for concerted efforts from all stakeholders in the education sector and has expressed its readiness to ensure the smooth and successful implementation of the policy.

Mrs. Kwakye-Cofie pointed out that the successful implementation of the Free SHS policy will bring both parents and CHASS a great relief as they no longer face the daunting task of paying and collecting school fees respectively.
"Heads of schools are the happiest because the act of collecting school fees is a daunting task; parents are not the only stakeholders excited by the policy," she pointed out.

She however, urged government to leave to school heads, the management of GH¢4.80 as feeding fee for students, adding that allowing school heads to manage items such as feeding fees helps deepen mutual trust between government and the school heads.

A Deputy Minister of Education, Dr. Yaw Adu-Twum, asked the heads to expect part of the funds for the implementation of the policy to hit the schools' bank accounts at the end of the conference, which is today (Friday).

He also indicated that the challenge faced by students with regards to the school placement system had been resolved.

Dr. Adu-Twum therefore urged heads of all senior high schools not to discriminate against any students posted to their institutions.