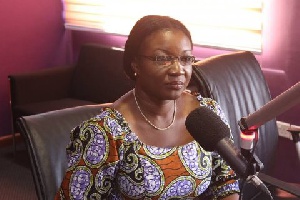 Ghanaians did not have candy and butter running down their taps during the eight-year administration of President John Kufuor and the New Patriotic Party, the governing National Democratic Congress' Campaign Spokesperson Joyce Bawa Mogtari has said.
"I don't remember, as I always say, that under NPP for eight years, Ghana was actually a paradise," she told Prince Minkah on the Executive Breakfast Show on Class91.3FM on Tuesday 20 September while responding to some issues and accusations levelled against the government by Mr Boakye Agyarko, Policy Advisor to the opposition party's flag bearer Nana Akufo-Addo, at a press conference organised on Monday 19 September.

"But look around you today, look at our interventions in transportation, look at our transformation in the sea ports of Ghana, look at the transformation in our road network, look at the elevations in all the key medical facilities we have across the country, look at the new ones coming up, look at the housing infrastructure …" she pointed out in response to claims by the NPP that the Mahama administration had been a disaster and made Ghanaians poorer.

She said the NPP's press conference on Monday was "… almost trying to create the impression that the eight years of the NPP that we all still remember very vividly were eight years of candy and butter running through our taps".
"These were eight years of yellow gallons, of people looking for water on the highways here in Accra and in the rest of the Ghana; these were eight years of a HIPC benefit that only gave us tiny little toilets in the wrong places and you can still go round the country and look at them; this is a government at the time that benefitted largely from debt cancellation and just what did they do with all the funds that were received at the time? This is a former administration that actually received huge investment in the oil sector and you ask yourself where it all went to.

Indeed, I recall challenges with water and access to water in portions of Adentan, East Legon, and what have you. All of these failed promises we lived with for eight years under NPP," she added.

"Indeed, Ghanaians, I always say, are very discerning people. We see an opposition party that is very desperate for power, we see an opposition party that is characterised by a lot of division and disgruntlement, a lot of challenges within their own house, a party that lacks unity of purpose, a party that is just so desperate and will throw anything at anybody just because they want power," she said.