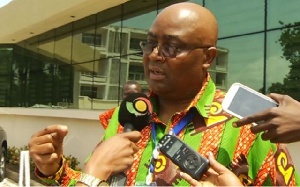 The Director of Research of the governing National Democratic Congress (NDC), Dr William Ahadzie, has described as "credible" the recent polls done by Ben Ephson, which show President John Mahama and the NDC will win the 7 December polls by 52.4 per cent.
Dr Ahadzie, who described Mr Ephson as a "celebrated" pollster whose polls the NDC believes, said the findings are "consistent with what's on the ground".

According to the polls, the flag bearer of the main opposition New Patriotic Party (NPP) will garner 45.9 per cent while the five other parties running will collectively garner 1.7 per cent.
Dr Ahadzie told Class News that the NDC's own data show the party will perform even better. "We even think it's short of what our data show because we are looking at 53.7%," he noted.

Reacting to comments by the NPP that they take polls done by institutions such as CDD, IEA, EIU and the University of Ghana more seriously than that done by an individual, Dr Ahadzie said: "The fact that an individual does it does not invalidate it."