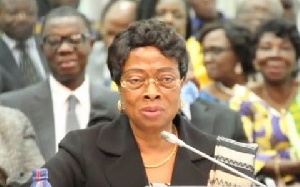 The Chief Justice Her Ladyship Sophia Akuffo has reiterated the need for broader consultation between government, parents and education experts on the Free Senior High School Education policy to ensure its survival and sustenance.
According to her, it would require not only dialogue but sacrifices and commitments on the part of parents and guardians by stepping up in meeting shared challenges in the quest for excellent outcome in the implementation of the policy.

The Chief Justice made the call on Saturday, February 17 at the 108th Speech and Prize Giving Day of Wesley Girls High School in Cape Coast.

"It is imperative to engage with school managers in frank and open dialogue with the view to ensure the overall success of the policy," she said, "and teachers and administrators will have to give wholehearted support as vital partners."

She said the challenge of increasing access to Senior High Schools education in the country while maintaining standards requires very "nimble" thinking and constant innovation.

She said "sacrifices are being made to make this quality education free."
In a related development, President Nana Addo Dankwa Akufo-Addo has warned that no headmaster or headmistress of any Senior High School in the country is to charge any unapproved or illegal fees, or charge fees already exempted under the Free SHS policy.

He said he knows there are a handful of reactionary elements in the country who are determined to undermine the Free SHS policy, stating that anyone caught will be dealt with.

He served the caution on Saturday, 17th February 2018, when he attended the 60th anniversary celebration of Pope John Senior High School and Minor Seminary, in Koforidua, in the Eastern Region.

"No headmaster or headmistress, therefore, is to charge any unapproved or illegal fees, or charging fees already exempted under the free SHS policy. Government will make sure of this, and sanction any school head who flouts this directive," he said.