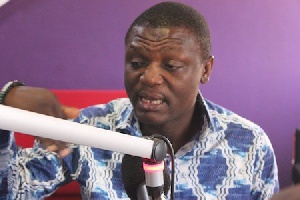 National Organiser and Campaign Coordinator of the ruling National Democratic Congress, Kofi Adams has disclosed that the numerous chiefs endorsing President Mahama are as a result of his good works in their town and villages.
"It is true that Chiefs are not supposed to meddle in politics but they cannot keep quiet over the massive infrastructure development going on in their towns and villages", he said.

Speaking on Asempa FM on Thursday afternoon, the Campaign Coordinator said the projects with respect to roads, market, hospitals, water and lights makes the campaign easy for President Mahama and the NDC everywhere they go.

He indicated that people meet them overwhelmingly and jubilate wherever they go, given that they find it difficult to believe that under President Mahama they have their fair share of the national cake.

"Even bicycles could not go to some of those places because of bad roads, people had to travel to other towns before they get ice water to drink but now food stuff can be transported to the market centers on good roads and people can get water from the fridge because there is light now", he stated.

Kofi Adams thus warned the New Patriotic Party (NPP) to stop peddling lies about the economy, since their own statement is exposing them.
"Nana Addo says the economy is very bad and NDC must be replaced but he has promised to restore Teacher and Nursing trainees allowances and also pay contractors their arrears in the first 100 days of his government", he averred, asking where the money will come from.

The NDC National Organiser wondered how the NPP Presidential Candidate will fulfill such promises if the economy looks that bad as his party has been describing to electorates.

"You can't just lie to become President because the Ghanaian electorate is discerning and they will hold you accountable to it" he opined.

Kofi Adams therefore prayed Ghanaians to see the lies NPP has as their campaign message and retain President Mahama as the President of Ghana in the 2016 elections.