Information Minister Mustapha Abdul-Hamid has condemned the circulation of images about travel details contained in the passport of former President John Dramani Mahama.
Abdul-Hamid said certain information about public officials and individuals need not be brandished in the public space since it does not augur well especially when the individuals involved are high ranking Ghanaian officials.

"When I said that I was outraged about people putting certain stuff on social media, NDC (National Democratic Congress) elements came at me and said that it is legitimate. Today, a former President who basically is the fulcrum around whom the NDC party runs has had his documents all over on social media and they are outraged.

"Really and truly I think there are certain matters that we must come to a consensus about as a nation that they are not good and if they are not good they are not good, putting people's official documentation and documents that are not meant for social media and so on in the public space," he told Moro Awudu on Class 91.3FM's Executive Breakfast Show on Thursday 5 April 2018.




There have been claims on social media indicating that Mr Mahama's passport was cancelled and asked to leave Sierra Leone after the country's recent polls because he was rigging conspirator for one of the parties.
Former President John Mahama has denied the claims however images of his passport details gave emerged on social media in relation to his trip to the West African country.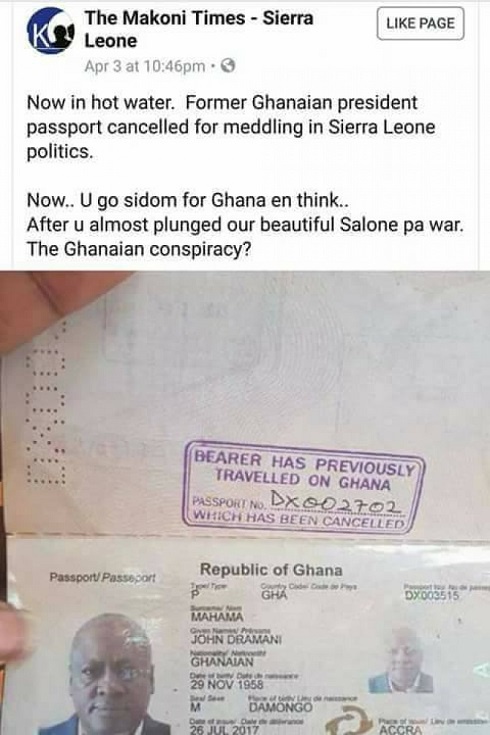 Even though some critics have accused the governing New Patriotic Party (NPP) of being behind the development, Mr Abdul-Hamid said it has never been government's strategy to malign Mr Mahama and it will be wrong to do that.

For him, people's confidential documents should be kept as such and not be made public for political or any other reasons.

"We should begin as a nation to draw limits on things that we can use for political advantage and things that when we indulge in will damage our collective moral standing as a nation. I think President Mahama's passport flying on social media, quite frankly I am not one of the people who is excited about it"