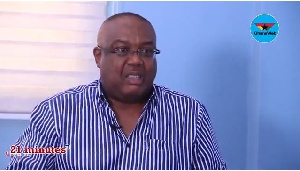 Experienced diplomat and staunch member of the National Democratic Congress (NDC), Emmanuel Victor Smith has revealed passionately that the collapse of 23 banks in the country will fuel the collapse of Free SHS.
The Free SHS (Free Senior High School) policy is a government of Ghana initiative introduced by President Nana Akufo-Addo's administration in September 2017.

The policy had been a major campaign policy prior to the election by Akufo-Addo in 2016. The policy aims to take out the element of cost as a barrier to education. Under this policy, every Ghanaian child who attains the pass mark, as agreed for the year by Ghana Education Service Council, will enjoy a three-year scholarship for secondary education.

However,the Bank of Ghana (BoG) on Friday August, 16 2019 revoked the licences of 23 insolvent savings and loans companies and finance house companies.

Some of the affected institutions include GN Savings and Loans Company which belongs to businessman and politician Dr Papa Kwesi Nduom, Unicredit Savings and Loans, Adom Savings and Loans, Midland Savings and Loans, Ideal Finance and Dream Finance Company.
Speaking in an exclusive interview with Boamah Darko, host of "Maakye" on Accra-based Hot 93.9FM, Mr.Victor Smith accentuated passionately that,the rampant collapse of banks under Nana Addo's administration will fuel the collapse of the Free SHS .

"Most people have lost their jobs because of the collapse of these banks…the banks that have been collapsed, the loans that they give to traders to import their goods are no more, So the revenue that you've projected from GRA and Customs that comes from the port ,as the goods are not imported, you will also not get your revenue…So as the revenues are not coming, where will you get your revenue to finance your free SHS…so it will collapse". Mr.Victor Smith noted

"So your projections are out of the window, because you said some of the revenues generated from GRA will be used to support Free SHS in the budget, so there will always be a short form– you can't find the money, because imports are not coming in; the banks have gone ",The Former Eastern Regional Minister added.