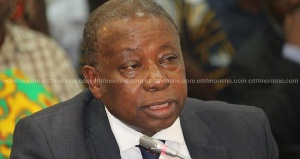 Describing the National Health Insurance Scheme (NHIS) as a collapsed intervention might have been too harsh a tag, Health Minister-designate Kwaku Agyemang-Manu has told parliament's Appointments Committee.
The governing New Patriotic Party (NPP), while in opposition, continuously described the scheme as a collapsed intervention and promised to revive it once in office.

"Collapsing might have been a very harsh word. But the bottom line is that when constituents come to us, they tell us the scheme has collapsed. They are sometimes detained because they cannot pay for medications and healthcare. Sometimes I have to forgo GHS200 to get the person discharged," Mr Agyemang-Manu said on Tuesday, 24 January.

According to the Dormaa Central MP, one key reason for his nomination as Minister of Health is for him to help restructure and transform the National Health Insurance Scheme (NHIS) for efficient service delivery.

He said one of his principal tasks if passed by parliament's Appointments Committee to become a substantive Minister, is to find sustainable funding to make the NHIS work again.

"I must open up to tell you that one of the reasons why the president pushed me to the Health Ministry was to take a critical look at what we can do to ensure that we find some sustainable funding and some workable arrangements to restructure and transform health insurance from the level where we are now that you call ailing to sustain it for its survival and growth and [to make it work again]," he told the Committee.
"I have looked at the report of a committee that President Mahama set up to do a review. The recommendations in there are quite insightful and I'm thinking of also putting in a little bit more management expertise and I believe with a little bit of funding innovatively coming in, we can get it done."

The lawmaker pleaded with Members of Parliament not to politicise issues relating to the NHIS because legislators would end up happier if the NHIS worked, because the burden of paying the medical bills of their constituents would be a thing of the past.

"Health insurance, I think when I'm given the nod…I'll continuously plead with all members of the …political divide, the large ones, to take away the little tiny politics because if we are able to turn round the fortunes of the health insurance, all of us MPs will be happier than any other stakeholder.

At least, the demand burden of support for healthcare would have been taken off completely from our heads and I think that will be very good for us.

Apart from that, we would have given something that makes us representatives of the people happier in the sense that people can access healthcare so easily and affordably. So we are going to look at the best practices that we can put in the health insurance to make it work again," he said.