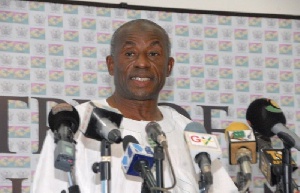 Government and Rural Development, Alhaji Collins Dauda, is confident that the ruling National Democratic Congress (NDC) administration will be retained in Wednesday's general election.
This, he explained, is due to the massive infrastructural development undertaken under all sectors of the economy by President John Dramani Mahama.

He noted that development projects that took place under the first four-year tenure of President Mahama far outweighed what took place during the eight-year tenure of former President John Agyekum Kufuor.

He therefore urged Ghanaians and the electorate in his home constituency, Asutifi South constituency, to ignore the vile propaganda of the opposition New Patriotic Party (NPP) and vote for President Mahama and NDC Members of Parliament (MP)contesting in the polls .

Alhaji Dauda made the call when he addressed hundreds of NDC supporters at Hwidiem in the Asutifi South constituency of the Brong-Ahafo Region on Tuesday.

Alhaji Dauda, who is also the MP for Asutifi South noted that the NDC administration under incumbent President Mahama has invested about GH¢13 billion in 184 projects across the country to create about three million jobs for Ghanaians.
A cross-section of people interviewed in the constituency also expressed satisfaction with the government's performance and promised to retain both President Mahama who is seeking a second term and their incumbent MP, Alhaji Dauda.

Solomon Adjei, a native of Kenyasi and farmer said the government has provided them with portable drinking water, good roads and build several school blocks to enable their children study under conductive environment.

"Almost every village in the constituency has a school, health centre, teachers and nurses' quarters.

"The government has also provided fertilisers to farmers to grow their crops." Mr. Solomon said the good road networks have further helped farmers to easily cart their crops to marketing centres, which has reduced post harvest losses.

Alhaji Baba Nuhu, a businessman at Hwidiem said: "We the people in Asutifi South will not make the mistake of voting for any politician, apart from President Mahama and Alhaji Dauda because we are living witnesses to the development projects they have brought to us. We cannot turn our back against them".